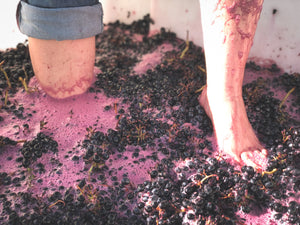 While we believe that great wine begins in the vineyard, we also know that what takes place in the cellar is the signature of great winemaking.
For the first vintage of SUNU, we cast a wide net with our winemaking techniques. Varying levels of whole cluster inclusion, length of time on skins and the use of different fermentation vessels are variables that we always consider at Betz Family Winery and were, of course, duly applied to our winemaking approach. However, it was also necessary for us to adapt our methods to include much more careful handling of the delicate Pinot Noir grape.
New winery equipment was purchased for gentler processing and cap management was done all by hand and foot. We introduced different yeast strains and new Burgundy barrel coopers to our already existing barrel program in order to highlight the subtle nuances that Pinot Noir is capable of achieving. Extended barrel and bottle aging were also necessary to allow plenty of time for the wine to fully transform into it's final identity before being released.